Add Curb Appeal With Your Garage Door
You can add home curb appeal with your garage door and some inexpensive updates around it. Many homes feature the garage door prominently on the street facing side of the house so it makes sense to focus some energy here. We've got some ideas to update your garage door ranging from easy to more involved changes.
Upgrading Your Garage Door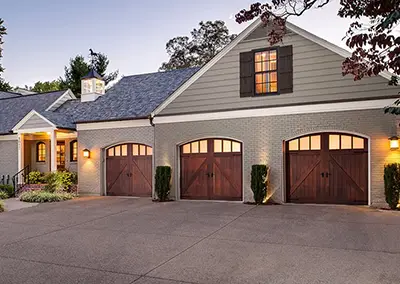 Upgrading or replacing your garage door is the most effective and most expensive way to add curb appeal. If your existing door is getting old and needs to be replaced, it's a great time to add curb appeal. Studies show that a new garage door has the best return on investment of all home remodel projects. That's because the garage door has a direct impact on curb appeal and home value. There are many garage door options and styles available and it can seem overwhelming at times. But it's worth the effort so you get the most value from your investment. There are 3 common varieties of garage doors with variations within each:
Traditional: the most common type of door featuring rectangular patterns with raised borders between
Carriage House: offering old world charm with rustic and barn-style features
Modern: includes sleek design elements like reflective panels or frameless designs
Within each category, you will find a wide range of design options, upgrades and more. Given how long your new door will last, it's worth the time to explore all options available to find what suits your style and budget. You may also want to consider garage door insulation in your purchase decision. While it may not add much direct curb appeal, it is a great investment to lower energy costs and add comfort in the garage area. If you need help navigating all the available options, our sales team would be happy to help with a free consultation and quote.
Accessorize Your Garage Door
If your existing door still has life in it and you're looking for a way to spruce things up, consider accessorizing! The idea is to frame and add features around your door to add visual appeal. Consider adding potted plants on either side to splash some natural color in the presentation. You can add inexpensive trellis and climbing plants to give some green appeal. In addition, shrubs around the garage door area can add interest while framing the garage door. Other things to consider are ornaments, sculptures and additions that will add to the visual of your door. Consult with a professional landscape designer for more ideas. The beauty of accessorizing is that it can be inexpensive and easy to change, so let your creativity loose!
Add A Fresh Coat Of Paint
A fresh coat of paint is an easy and affordable way to add more pop to your door. Most doors are easy to paint or stain and allow for a wide variety of color choices. Consider how the new color will work with the rest of your home's street facing façade.  Normally, you'll want your main entry door to be the main focal point so it's a good idea to choose a color that doesn't overpower the door color. Think of your garage door as providing a supporting role in your color scheme. On the other hand, if your entry door is not in the picture, you can try some bright, primary colors to make the garage door the star of the show!
If you're not sure, consult with a painting contractor to get some professional ideas. House painters have seen a lot of colors and styles and can provide valuable insights. Or just drive around the neighborhood and see what other folks have done. You'll be amazed at the combinations you see when you're focused on how the garage door color fit in with the rest of the house.
Add Or Upgrade Lighting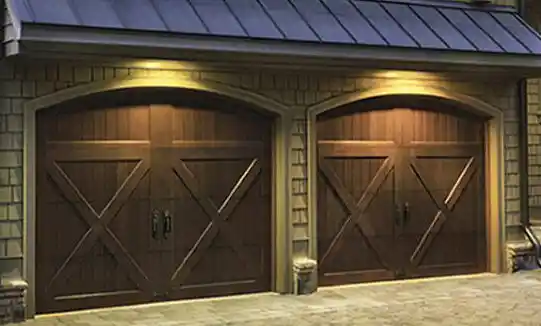 Exterior lighting has always been a great way to make a house sparkle at night. In addition, it adds essential safety and security for residents and visitors. Enhancing the lighting around your garage door can add more visual appeal at night and the choice of fixture can have impact during the day. So take a look at the lighting around your garage door to see if there is an opportunity to add interest to your garage door curb appeal.
Start by choosing fixture styles that complement the look of your house and garage door during the day. For example, a carriage house style garage door would do well with older traditional light fixture styles. On the other hand, a modern style garage door would do well with sleek, contemporary light fixtures.
Then consider the lighting patterns at night. Are there features above or below you want to highlight? Wall sconce lighting can direct light up, down or both. There are a lot of options to choose from but enhanced lighting can really add some drama to your home at night. Checkout some examples in your neighborhood and take a look at some ideas online. It can be a lot of fun to see what's out there!
Curb Appeal Value With Your Garage Door
Upgrading your garage door and the area around it is one of the most effective ways to add curb appeal to your home. You can choose from a variety of upgrade options that fit your budget while adding value. Your garage door is often one of the most prominent features of a home so it's worth the time to increase home value and personal pride!