Buying a New Garage Door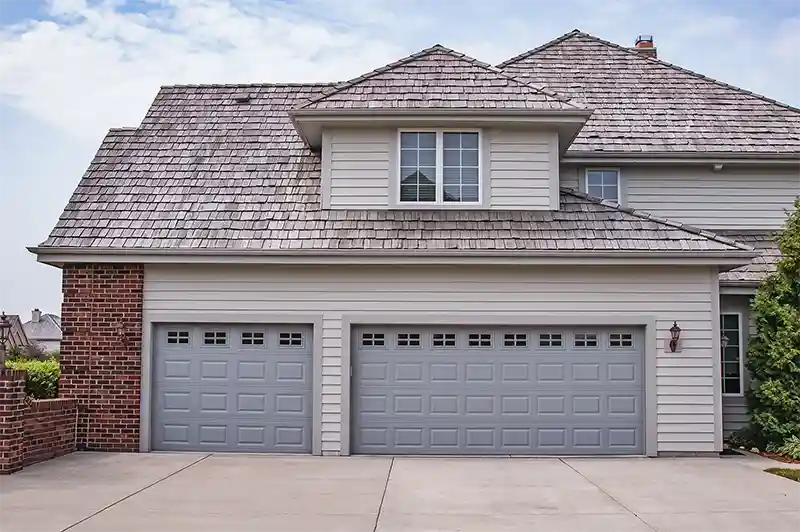 One of our most ask for garage door services is a new door installation. We've created this garage door buyers guide to help you with your new garage door purchase. There are a lot of choices for a new garage door with plenty of manufacturers, styles and options to choose from. The garage door manufacturing industry in the United States alone is worth more than $3 billion a year so there is much to consider.
Garage doors are available in a wide variety of styles and types and there is almost certainly a garage door that will work perfectly for you. When considering a new garage door installation, it's important to understand your options. Keep reading to learn more!
Types of the Garage Doors
You are probably familiar with what is called a sectional garage door. Sectional garage doors have several horizontal panels. You or a motor can then push the garage door up and the panels roll up a curved, 90 degree track so the door rests above you, parallel to the ground.
Another common type is the rollup garage door. These are more common in commercial applications but can be found in some residential applications. In fact, rollup garage doors are basically like sectional garage doors but with a higher number of panels. Rollup garage doors are basically dozens of small horizontal panels with hinges in between them.
Garage Door Options
Once you have decided on the type of garage door that fits your application, you should consider all the options available for your new door. Consider the following options and feel free to contact us with any questions.
Garage Door Construction
Most garage doors are made of aluminum, steel or wood. You are typically looking at a trade-off between cost, durability and appearance. Aluminum is less expensive than steel or would but not necessarily as durable. Wood has a warm look and feel that may be a good choice in a rural setting but requires more maintenance. Many steel garage doors are available with textured wood patterns providing the durability of steel with the warm wood appearance.
Aluminum and steel are the most common choices and manufacturers have a lot of styles that resemble wood grain bridging cost and appearance nicely. Another modern options combines an aluminum frame with glass panel sections providing what know as a "full view" garage door. A great choice if your home features a modern architecture.
Windows
Windows are a great add-on for a number of reasons. First, they look good, giving an average door a real style boost. Most doors offer several choices of window styles and placement so you can get creative here. Second, windows let in light giving your garage space a brighter feel. This can be especially useful if you use your garage for more than just parking, like a workshop or man cave. Windows are available in a number of transparency options and one way views. This allows light in while providing a level of security against prying eyes.
We recommend windows for most of our new garage door installations for an added style boost with minimal cost addition.
Insulation
Insulated panels are another popular option. Garage door insulation keeps your inside garage space at a more moderate temperature on hot and cold days. This is a good choice if you plan to use your garage space for anything more than parking your car. There are usually several choices in insulation "R value" so you can choose what's right given your situation. Remember, an insulated garage door will also reduce your home heating and cooling bill so it may be a good investment.
Garage Door Styles
Traditional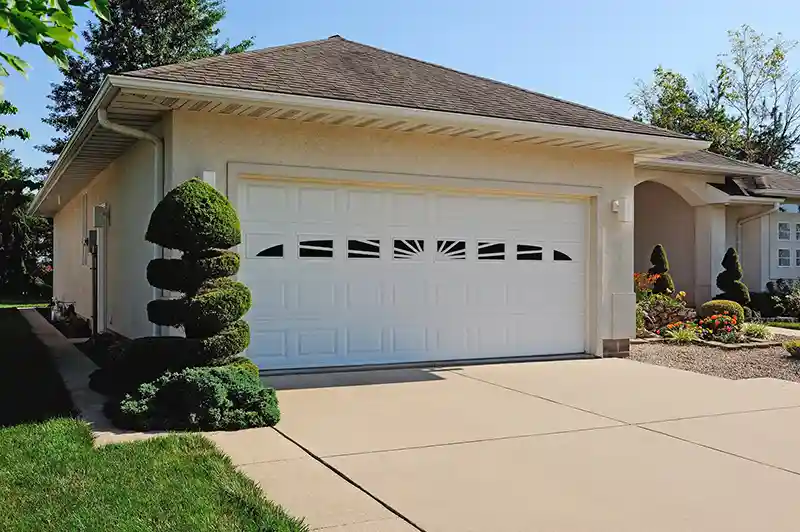 The traditional style include raised-panel garage doors offering a clean, classic look for your home's exterior. These garage doors are characterized by symmetrical, raised rectangular panels.
The typical traditional garage door will offer choices of the rectangle shape itself such as square, rectangle and short rectangle. Other options will include windows with different glass style options, colors and garage door panel insulation. Most garage door makers offer a variety of products in this class, with various options for construction and design including insulated and natural-wood options.
Carriage House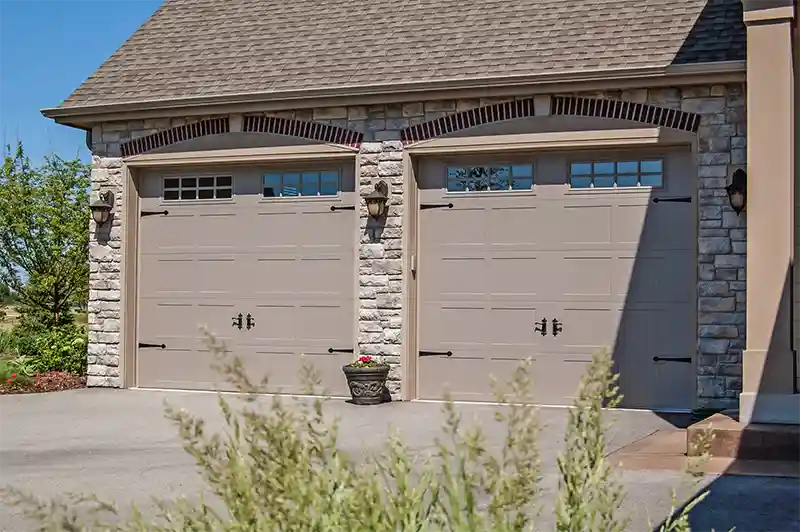 Carriage House doors, sometimes know as "ranch style" doors are very popular in the United States. They are often made out of wood or steel that imitates the appearance of wood and presents a warm ranch or farm feel. This class of garage door offers an incredible array of styles, limited only by the imagination.
The panels often resemble barn doors adding a rustic feel to the door. A wide variety of window styles are available and very common with this style. The door hardware really adds a detail to these doors that make them pop visually. If you are looking for something a little more than traditional while maintaining a warm inviting appearance, the carriage house style might be right for you. There are tons of choices in style, colors and options to fit every taste.
Contemporary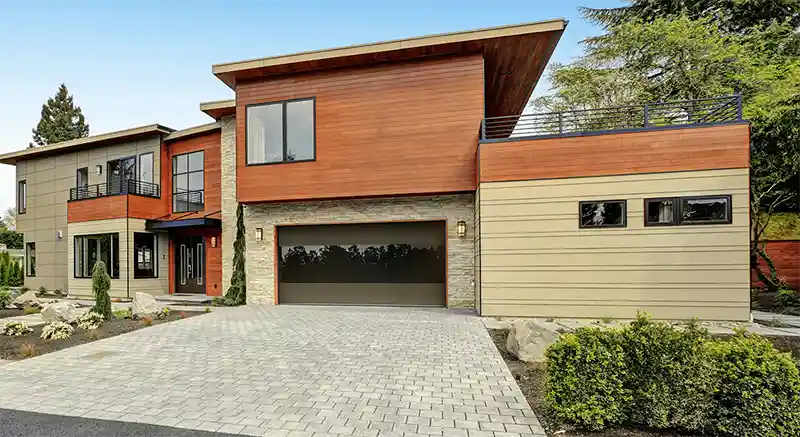 Contemporary garage doors are the result of modern advances in technology and aesthetics. They are much more likely to be asymmetrical than any other kind of garage door. You can see that same kind of asymmetry as a feature in modern art. These doors are the result of thinking outside of the box. That means that everything, including the color and the materials, is up for discussion.
The contemporary style door allows for almost any combination of materials and visual elements that are best suited for homes that feature a modern architectural design. The stunning visuals really add to the overall appearance of the modern home.
Making Your Garage Door Choices
Homeowners are often surprised by the shear number of styles and choices available for a new garage door installation. People see garage doors everyday and use theirs all the time without giving it much thought – until they need a new one! This garage door buyers guide provides an introduction to some of the options and styles to consider. We encourage you to check out our preferred garage door vendors including:
Our team is always ready and available to help with any questions you may have regarding a new garage door installation or any of our other services. Click here to get in touch. Happy garage door shopping!