Get a Garage Door Opener Installed
If you need a garage door opener installed, trust the pros at Sawtooth. We are a local company offering the best service and the best prices.
Our technicians are experts and will assess your specific needs so you get the right opener that you can depend on for years to come.
We provide sales and service on all the top brands including: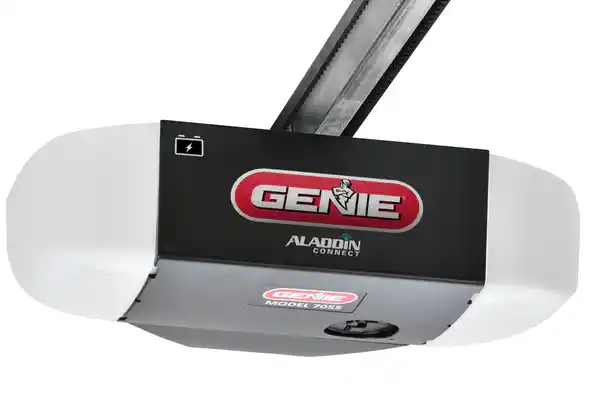 Installation Process
Our opener installation process includes:
Assessment
A technician will visit your home to assess the garage door and gather information about your specific requirements. They will evaluate the type and condition of the door, the available space, and any existing electrical wiring or mechanisms.
Product Selection
If you haven't already selected an opener, our team will be happy to provide suggestions.
Scheduling
Once you have chosen a garage door opener, we schedule an appointment for the installation. This allows you to plan accordingly and ensure someone is present during the installation process.
Pre-installation Preparation
On the scheduled day, our team arrives with the necessary tools and equipment. They will begin by preparing the area, including clearing any obstructions near the garage door and ensuring a safe working environment.
Installation Process
We install the garage door opener according to the manufacturer's instructions and local building codes. We will mount the opener unit to the ceiling or wall, connect it to the garage door, and install the necessary electrical wiring. Safety sensors and other accessories may also be installed.
Testing and Adjustment
Once the installation is complete, the technician will thoroughly test the garage door opener to ensure it operates smoothly and safely. They will check the opening and closing functions, test the remote controls and wall-mounted control panel, and adjust the settings as needed.
Demonstration and Instructions
The technician will provide you with a demonstration of how to operate the garage door opener, explain its features and answer any questions you may have.
Cleanup and Disposal
Our crew will clean up any debris or packaging materials from the installation process, ensuring your garage is as good as new. They may also offer disposal services for any old or replaced garage door openers if needed.
To get your garage door opener installed by the best, call Sawtooth Garage Doors now!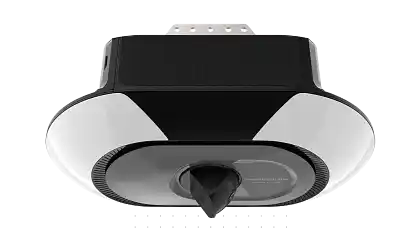 Smart Garage Door Opener Installation
Smart garage door openers have become increasingly popular due to their convenience, security features, and seamless integration with modern smart home technology. Our team has the expertise to install your smart garage door opener including connection to your wifi.
If you have an existing smart home system, the technicians will integrate the smart garage door opener with your preferred platform, such as Google Assistant, Amazon Alexa, or Apple HomeKit. This will allow you to control the garage door using voice commands or through your smartphone.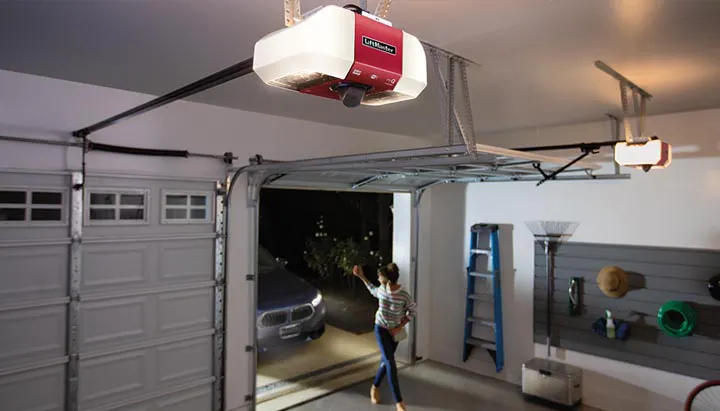 Battery Backup Systems
Homeowners should consider a battery backup system when having a new garage door opener installed.
During an emergency situation, it's not at all uncommon to lose power. A wildfire, tornado or thunderstorm can all knock out power. And it may be in these situations you need your garage door opener the most.
A battery backup system will provide power for several garage door cycles allowing you to open your garage door reliably when every second counts.
If you're looking at garage door opener options, we highly recommend a battery backup system for peace of mind.
This is a great upgrade on a new door installation or your existing door.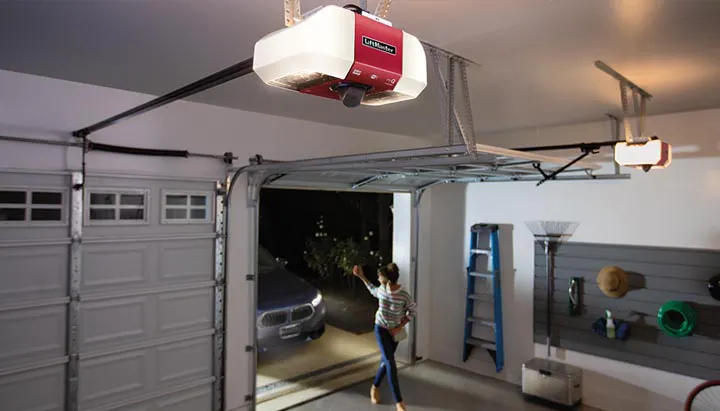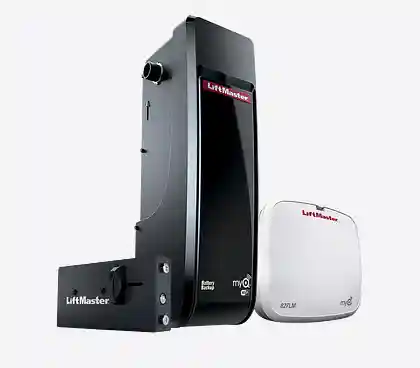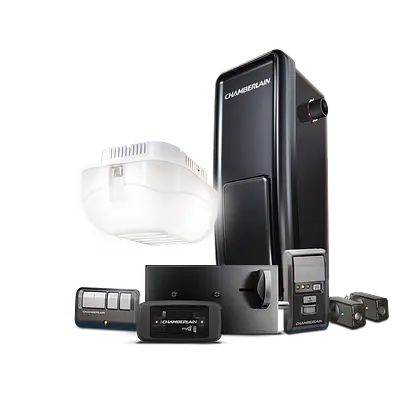 Wall Mount Garage Door Openers
In some situations, a traditional ceiling mount opener doesn't work. If your garage ceiling is too low or you want to use the ceiling space for something else, a wall mount opener may be the right choice for you.
A wall mount opener is mounted on the wall beside the door, eliminating the need for any extra ceiling space.
Wall Mount Considerations
Safety and Security
Wall-mounted garage door openers provide the same level of safety features as ceiling-mounted openers. They include photoelectric reversal systems and obstruction detection to ensure safe operation. Additionally, modern wall mount openers often have enhanced remote security measures, reducing the risk of open code hacking.
Mounting Requirements
For wall mount openers, you need a minimum of 8 inches of available space on at least one side of the garage door. The opener should be installed at least 2 feet below the ceiling. Our garage door technicians can assess your situation to determine if a wall mount opener can be installed in your specific location.
Price
Wall mount openers typically come at a higher price compared to ceiling mount models. Prices can vary, but you should anticipate paying at least $200 more for a wall mount unit.
Garage Door Opener Buying Guide
Selecting the ideal garage door opener is a crucial first step in any installation process. These automatic devices not only provide convenience but also enhance the security of your home. To help you make an informed decision, we have prepared a buying guide with essential information.
Type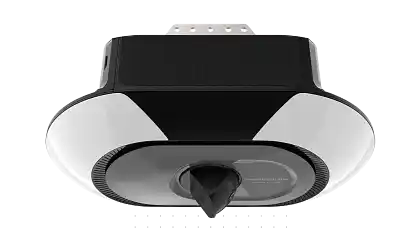 There are three primary types of garage door openers: chain-drive, belt-drive, and screw-drive. Your choice depends on your preferences and budget.
Chain-drive: This affordable and commonly used opener operates with a chain to lift and lower the door. It may produce noise and vibrations.
Belt-drive: Using a belt instead of a chain, this opener offers quieter operation and minimal door vibration. It comes at a higher cost than chain-drive openers.
Screw-drive: This powerful and fast opener utilizes a threaded steel rod. While it requires more maintenance and can be noisy, it offers robust performance.
Power
Garage door opener power is measured in horsepower (HP). The size and weight of your door determine the required horsepower. Here are some guidelines:
1/2 HP: Suitable for single-car garage doors up to 350 pounds.
3/4 HP: Suitable for larger single-car garage doors or standard double-car garage doors up to 550 pounds.
1 HP: Suitable for heavy double-car garage doors up to 750 pounds.
Features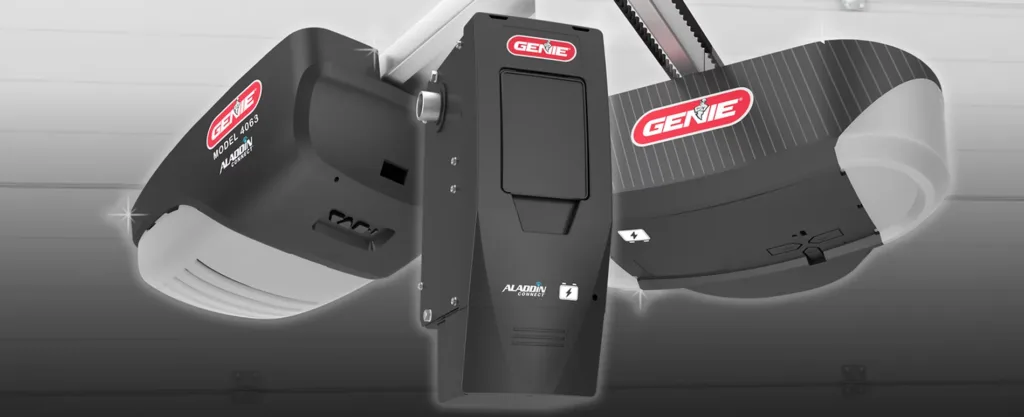 Consider the following features when selecting a garage door opener:
Remote control: Most openers come with a remote control for operating the door from your car or inside your home.
Keyless entry: Some models offer a keypad for convenient keyless entry using a code.
Battery backup: An opener with a battery backup ensures operation during power outages.
Safety features: Look for automatic reversal and infrared sensors that detect obstacles in the door's path.
Wi-Fi compatibility: Certain openers can be controlled through a smartphone app, enabling remote operation.
Installation Cost
According to HomeAdvisor, the cost of a garage door opener installed typically falls within the range of $218 to $536. On average, homeowners in the United States can expect to pay around $375 for the service, although prices can go as high as $825 or more for commercial installations.
The final price of your installation will be influenced by several factors, including the type and brand of the opener you choose and whether it is a new installation or a replacement.
Summary
Choosing the right garage door opener enhances both the security and convenience of your home. Take into account the type of opener, power requirements, and desired features to make an informed decision. Remember, a garage door opener is an investment in your home, so choose wisely.